Archive for April, 2010
2010年04月27日(Tue)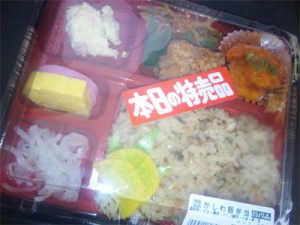 I bought a box lunch at the supermarket in last Sunday.
The price of this box lunch is about 400 Japanese yen(a little less than 4 US dollars).
It is a reasonable price for me. And the box lunch at the supermarket is always tasty.
The name is "かしわ飯弁当" in Japanese.
"かしわ飯弁当" means chicken rice box lunch in English.
2010年04月20日(Tue)
I am interested in China and car.
I have recently studied PHP,MySQL and so on.
(PHP is a programming language.MySQL is a relational database management system.)
For study these,I make a website.
中国の自動車名データベース
(japanese version only)
I think these programing languages is very useful for me!!